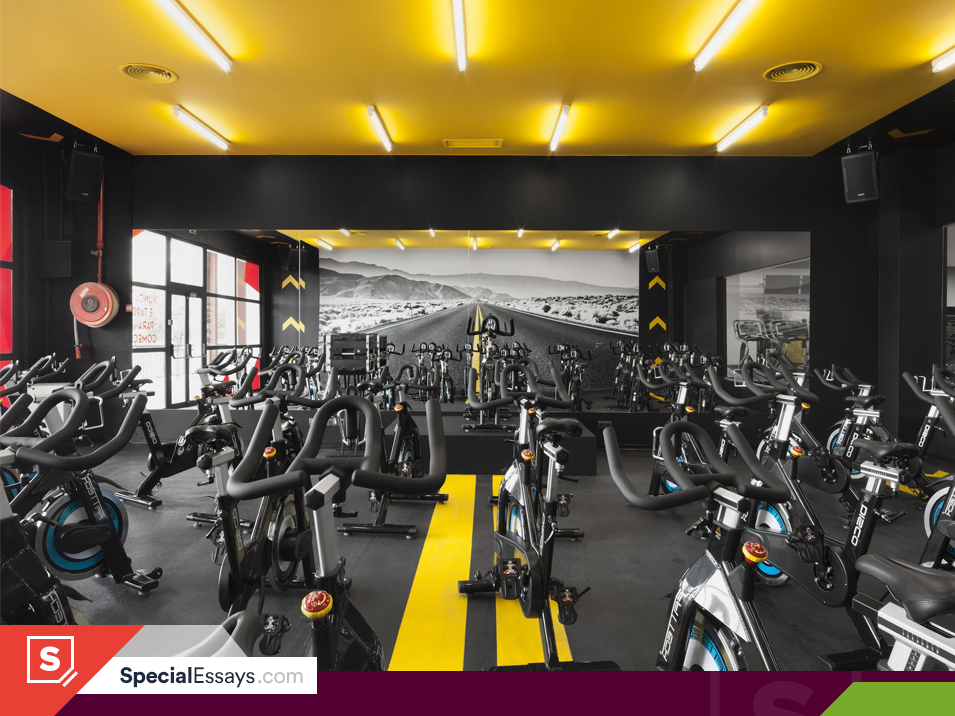 Category:
Gold's Gym International Inc. is a firm dedicated to transforming the lifestyle of people in various ways. Fight against weight gain and maintaining the body in a healthy condition is something that challenges everybody. Children, teenagers and adults face the risks of cardiac failure, because of body fat. Therefore, the company's chief mission is to enhance health in people around the world because they believe every individual has his/ her own strength and Gold's will help one discover strength. Besides, they sell merchandise. They sell vests and T-shirts branded Muscle Joe Tee, Muscle Joe Athlete Tank, Classic Joe Premium Stringer Muscle Joe L/S Crew, Classic Joe Tee, Simple Joe Thermal, Stacked Logo Thermal, and Tour de Cure Jersey (Gold's Gym Franchise Cost and Fees). Also, treadmills are available with Gold's Gym Crosswalk 570 and Gold's Gym Trainer 410 being the only brands. Bikes (e.g. Gold's Gym Cycle Trainer 390 R Exercise Bike), Ellipticals (e.g. Gold's Gym Stride Trainer 410) plus accessories like Gold's Gym 2-in-1 Aerobic Step are only a few. The reputation of Gold's Gym has made customers flood in the gym despite the high price. Presently, they charge $500 per session, but the type of professional job they do make them exceptional (Gold's Gym, 2013).
Discussion on External Environment
There are many strengths of Gold's Gym. They are fitness experts who encourage everybody to work hard to explore their abilities. Counseling customers on eating habits as a way of containing weight gain is also accorded to all clients. This company is strict of time management and delivers products within the specified indicated deadline on the business website. The company has achieved undisputable kind of legacy. On the other hand, Gold's Gym International Inc. has been receiving poor customer reviews on some issues.
High Charges
This gym is very expensive. Charging customers $500 per session is total madness. Clemson University's Fike Recreation Center fees are much cheaper than in Gold's Gym. In Fike Recreation Center, customers are accorded the use of gym amenities without limit. Fike has a race track indoors, basketball pitches, and locker rooms for females and males, etc. If I was to choose between the two, it would be Fike Recreation Center. Before somebody contracts a certain firm, it is customary that he/ she search for the most affordable prices. To beat the competition from Fike, Gold's Gym must lower its rates.
The Distance Factor
Its location is a lot further off the campus. The clients of Gold's Gym and Fike are mainly students, and Fike appears to be more favorably located because its distance from the campus is shorter and it is located at an area with apartments densely populated by thousands of scholars. This frightens Gold's Gym given that most students do not have such kind of money to meet membership requirements. People from Clemson residential place prefer going to Gold's Gym (Koprulu, 2013). This company has enough money and can open several branches, which are strategically located. They might even offer transport incentives by purchasing buses. Alternatively, the distant customers must be given discounts to encourage them to come.
Gold's Gym does not maintain its equipment on a routine basis. A certain customer complained that 50% of all the machines had damaged screens. When clients sign contract with such an expensive firm, they expect to receive services worth of their money (Allstarme, 2009). Some clients may relate this to arrogance by the company. It is hard to imagine a customer to be back to the gym if he or she sees half of the equipment is faulty. Moreover, it can be a reverse advertisement. The best advice for them is to contract maintenance engineers to fix the problems so customers see that the company really values their presence. No company can run away from this responsibility.
Discrimination is another setback of Gold's Gym. The owner of Gold's Gym participated in anti-gay political fundraisers. Consequently, some gym clients (gay) terminated their membership. This was a blunder of the century. It has lost many clients and though the owner apologized and claimed that the political funding of anti-gay campaign was an issue not related to the gym. Most of the clients were not convinced, and boycotts have been the only casualty (Tedder, 2010). Most companies, which have flourished, practice the policy of neutrality and any employee who discriminates against others faces the sack. Once a company is perceived to be discriminative, customers will go away and give poor and negative reviews, which may stop new customers from seeking your services or products. They paid $2 million for fighting gays in the society; however, those funds could be channeled into constructive projects. From my point of view, they should have used it to donate for the disabled people or to procure new equipment and repair the damaged machines.
SAVE 25%:
Make your first order with 15% discount and get 10% OFF MORE for ALL orders by receiving 300 words/page instead of 275 words/page
Non-uniform charges affect customers' attitude. A customer joined Gold's Gym and realized that his monthly contribution fee was being increased month by month. Raising the charges monthly without notifying the customers in advance to enable them to make early decisions is disastrous. In fact, some customers may mistake this for a scam and curse that company with agony. If it is done after a period of six months, a 20% increase will give the customer no reason to be mad. However, on a monthly basis, clients will get furious and walk away because I believe every person has his/ her own monthly expenditure program, which must be slightly constant. Therefore, regular adjustments may be a bit stressful because no one can employ a financial expert to take care of gym expenses (Fairfax Underground, 2012).
Ethics and Social Responsibilities
Ethics and social responsibility must not be mistaken with charity. The company is determined to protect the privacy of its customers. Their names, payment card information and job identity (if known by Gold's Gym) should be all kept private. Every company is obligated to give back to the society. Gold's Gym has been actively involved in the fight against diabetes campaign. It funds the American Diabetes Association "Alert Day". Furthermore, it offers free exercise tutorials in order to help people train at home to fight diabetes and other deceases. Health awareness programs educate people on the need for gym exercise and proper diet management to fight diseases such as diabetes mellitus and obesity, which are also part of corporate social responsibility agendas for Gold's Gym.
Though the company has a strong policy of indiscrimination, this issue was put into a test when the owner funded an anti-gay political campaign. The company violated its own internal policies by supporting political issues.
Gold's Gym creates job opportunities. Employees here are promised good salaries and the company vow to pay them in time as a way of fulfilling its employment policies. To the contrary, sales manager filed a lawsuit against Gold's Gym. They claimed that the company owes them unpaid overtime allowances. A company must take responsibility to pay workers in time. This scandal can bring down a firm's image and we all know how it affects sales (Brar, 2011).
Conclusion
The analysis of Gold's Gym International Inc. has equipped me with some important information regarding management. It is a powerful firm, which does everything within its disposal to stretch a helping hand to everybody. The eradication of diabetes in the world has been their top concern and this has been testified by many. However, Gold's Gym has very concrete internal and external policies, which when followed may make the company even bigger. This research paper is an eye opener to proper management of firms. Discrimination and lack of maintenance annoy clients and must be avoided at all costs. However, it is the leading fitness company in the world, which means that some other companies that have not been discussed could be even worse concerning management.